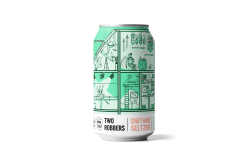 Two Robbers Hard Seltzer Cucumber Watermelon 6 x 12 Oz Can
Quite simply two of our favorite ingredients in any cocktail, the Watermelon and Cucumber is a perfectly refreshing hard seltzer. Aroma and taste is fairly balanced between the two flavors. Often referred to as the "Wa-Kyu" by local Philadelphians. Made with simple and real ingredients including sparkling water, alcohol from cold fermented cane sugar, watermelon extract and cucumber extract.
Nutritional Facts
5.2% ABV
Total Sugar: 0g
Calories: 110
No sweeteners or concentrates, ever!
Naturally gluten free
Style facts
---
We Also Recommend
---