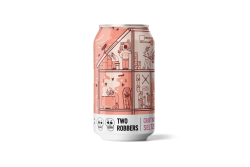 Two Robbers Hard Seltzer Peach Berry 6 x 12 Oz Can
Our Peach Berry offers a brilliant balance of fresh white peaches on the aroma, with a variety of fresh berries dominating the taste. Catch notes of blueberry, raspberry and strawberry on the finish of this crystal clear hard seltzer.
Nutritional Facts
5.2% ABV
Total Sugar: 0g
Calories: 110
No sweeteners or concentrates, ever!
Naturally gluten free
---
We Also Recommend
---